Diwali is one of the most famous festivals of Hindus. Diwali symbolizes for us "triumph of truth over lies, light over darkness and knowledge over bewilderment". It becomes more excited if you celebrate Diwali in Rajasthan. Each and every place lit by the diyas and candles. If you are planning to spend a night in Diwali, then book your Rajasthan Tour Package. Every city of Rajasthan has a unique and special culture to celebrate the festival of Diwali. There is some coolest place where you can stay and explore the beauties of Diwali nights in Rajasthan.
1) Spending Diwali night at Jaipur: Extravagant lighting in Jaipur attracts many tourists. In Jaipur, all the markets and shops are decorated with beautiful and attractive lights. If you want to see the whole Jaipur, then go to the Nahargarh fort and see the whole Jaipur bathing in the lights. All the monuments and the government offices also lit up during Diwali. The pleasant view of the Jaipur will stun you and makes you speechless. Johri Bazaar, Bapu Bazaar, JLN Road and Tonk road are beautifully decorated that its glittering route attracts your eyes to keep staring at the decoration.  You can also visit the Hawa Mahal commonly called"Palace of the Winds", and the open-air, Jantar Mantar Observatory to see the vast ancient astronomical instruments. Enjoy a stroll through the colorful. If you want to see the beauty of Jaipur, then come at Diwali.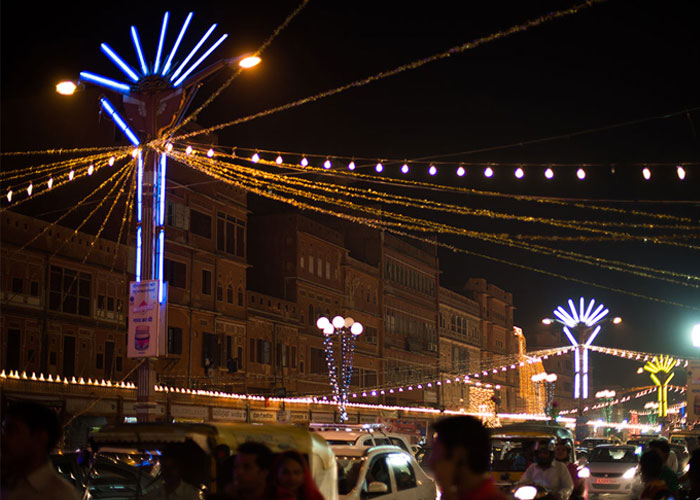 2) Spending Diwali night at Pushkar: Pushkar is famous not only for camel fair but also for Diwali celebrations. The lit of the diyas and the bursting of crackers will enchant you at the Varah Ghat. Attending the Aarti of Varah Ghat gives you delightful feeling at Diwali. Everywhere in the Pushkar, there are Diwali Prayers. The people wear their traditional dresses and the children wear new dresses and visit the various temples at Diwali.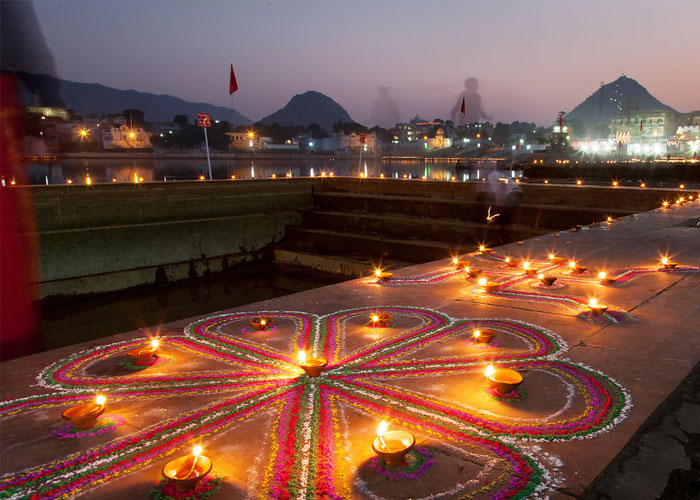 3) Spending Diwali night at Jaisalmer:  Jaisalmer is always a colorful, magical place. But if you are fortunate enough to visit Jaisalmer during Diwali, you will see it at its finest. The Golden City shimmers in lights of earthen lamps, artificial lights and from the bonfires. The celebration starts with the Diwali parade marching through the narrow streets of Jaisalmer. Every person presents there takes part in dancing, music, camels, and confetti. All the people you see are brightly colored clothing and celebrating.