Things to do in Jaisalmer fair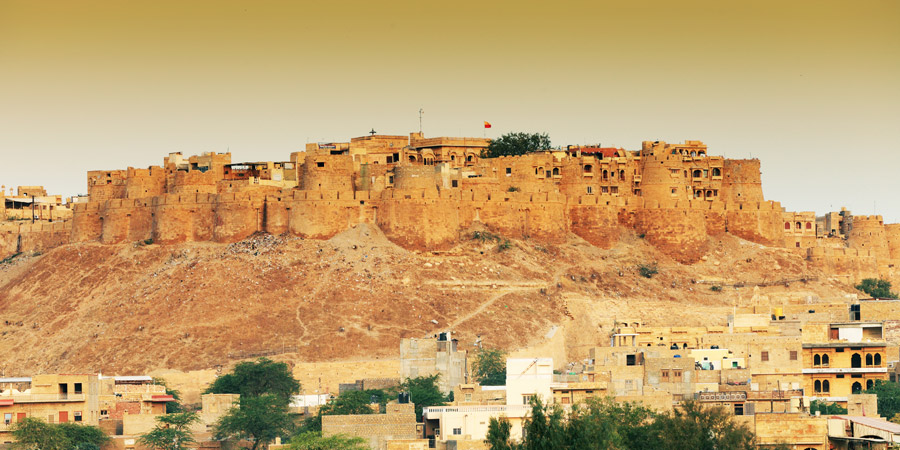 Jaisalmer is situated in the west side of Rajasthan tour, in the heart of the Thar Desert, commonly known as "Golden City". If you want to plan to attend Desert festival in Jaisalmer, then plan your tour in the month of February.  The festival is celebrated mid the beautiful dunes of the Thar Desert in the Sam dunes (42 kilometers from Jaisalmer). The celebrations of this festival make the desert come alive with joyand ecstasy. The festival inaugurates with a cortege in the morning from the Jaisalmer fort to the Shahid Poonam Singh Stadium. Here are some of the most exciting activities to consider on your Jaisalmer desert festival.
(1)Boating in Gadisar Lake: Sail in the Serenity:-
Gadisar Lake in Jaisalmer is one of the most beautiful attractions. This is man-made reservoir and in the lake, there are many aquatic animals living there. Enjoy the spectacular surroundings or enjoy boating in this sparkling lake with families and friends.
(2) Parasailing: Fly high above the Desert:-
Fly high above the desert and enjoy an exhilarating bird's eye view is a wonderful experience. This breathtaking and bold heart parasailing activity is very common in the desert areas and one of the mesmerising Jaisalmer attractions. Desert look like golden plate above the sky. Those who have height phobia cannot do Parasailing.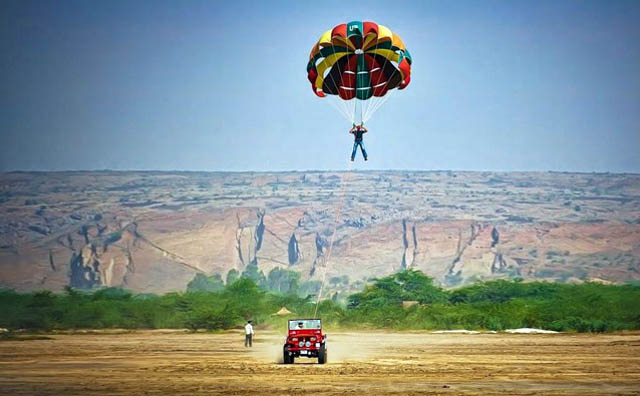 (3)  Quad Biking: Experience the Off-road Adventure:-
Quad Biking is also among the most exciting things to do in Jaisalmer. Scrutinize the dune topography or you can ride in a closed circuit in a quad-bike. It is most attractive for those who have a penchant in riding a bike in zigzag and rugged roads. It is sometimes dangerous for who are novice.

(4)  Desert Safari and Camping: Experience the thrill of the Desert:-
Taking a desert safari and staying late night in a desert camp are some of the other common things to do in Jaisalmer. Travellers can take evening safaris to explore the spectacular dunes and watch the sun setting behind the dunes. Camping in the night in the desert is the best way to know how the people live in the desert and earn their livings with limited sources.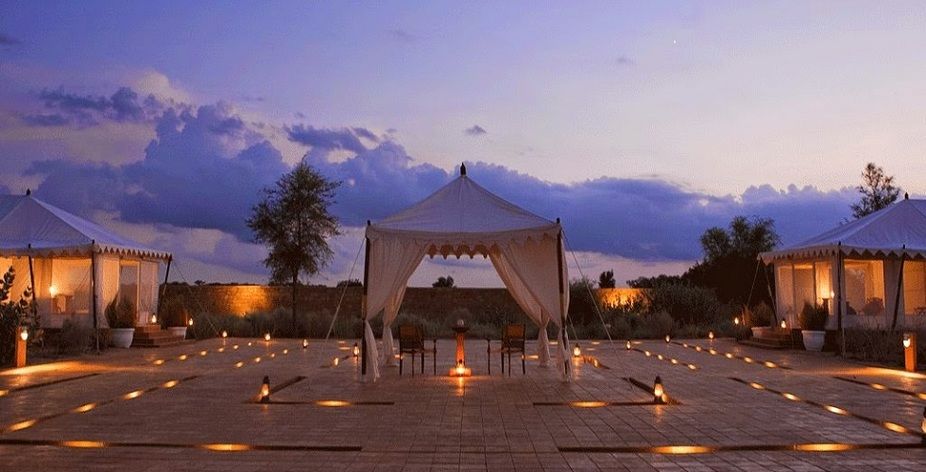 (5) Visit the Indo-Pak border:-
The Indo-Pak border is among the most awaited tourist attractions in Jaisalmer. Travellers can extend their desert safari and visit the Indo-Pak border area with prior permission and permit passes from the Indian Military.