Top 3 Incredible Tourist Places of Jaisalmer
Do you love being in a deserted area to witness the most beautiful sunset with the silhouettes of the camels all around the place? Well, it can be true when you are in Jaisalmer Tour, and you just need to stay there for a while, and there will be things that you will witness that you never ever thought of.
These things will surely make you cry out loud, and there is nothing compared to the beautiful starry sky and the camel Safari of the desert of Thar. However, if you are planning to get somewhere in Jaisalmer this summer then here are some places that you should not miss to visit. Here is the list of some famous places of Jaisalmer to spend some quality time and witness something interesting.
1) Jaisalmer Fort
This fort is considered to be one of the biggest forts that were ever built in this world. It is famously known as sonar quila because at dawn when the sun is about to kiss the horizon, the last golden light of the sun falls on the fort, and it turns the fort in golden color and hence sonar quila.
This is the reason behind the name, and there are some amazing sculptures to see in the fort. Moreover, you can get to know some more about the history and the fort was built in 11th century by the Raja of Jaisalmer. This looks majestic over the hilltop of the Jaisalmer city and is one of the most interesting places to visit this summer with your family or even solo.
2) Patwa Ki Haveli
The sculptures of glass and other art of this place will take your breath away. There are many sculptures that are made within the Haveli, and this place has some interesting history related to some ruler in 1805. The Haveli is one of the most important Haveli of Jaisalmer, and it was commissioned to Guman Chand Patwa and his 5 sons in 1805. After that and before that, there have been so many things that are related to it that will never fail to blow your mind away.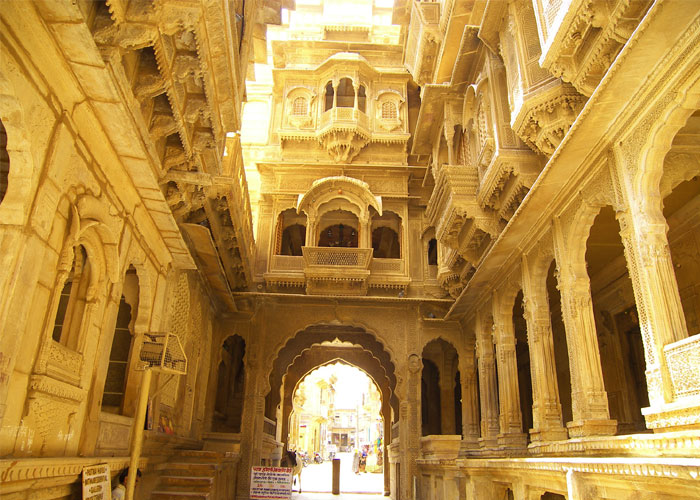 3) Gadi Sagar Lake
Well, the whole of Jaisalmer is full of historic things and how this lake cannot be into all that. Gadi Sagar lake was the water supply for the people in the old era. However, if you are going to these places, then you should never forget to carry your camera with you.